Study English Today
- Free online English lessons and English grammar for ESL and EFL learners. Includes also tests, English alphabet with pictures of animals, poetry and lyrics.
https://coderslegacy.com
- impacting knowledge for the future.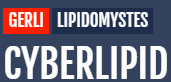 https://cyberlipid.gerli.com/
- This site for cyberlipid studies is an online, non-profit scientific organization whose purpose is to collect, study and diffuse information on all aspects of lipidology.